Disney+ and Dwayne, "The Rock" Johnson, bring Eddie Braun's rocket ride journey to recreate Evel Knievel's 1974 Snake River Canyon jump on Friday, July 23
This Friday, Disney+ has a documentary, "Stuntman," streaming that will evoke many memories for Gem Staters who have been here for more than a minute. This is the full journey of stuntman Eddie Braun's 2016 recreation of the famous 1974 jump.
The Snake River Canyon near Twin Falls was Mr. Knievel's Kryptonite, if you ask stuntman Eddie Braun. It foiled the great Evel Knievel, who was lucky to survive the crash landing. Mr. Braun crossed paths with Mr. Knievel as a child, and the meeting forged Mr. Braun's vocational path. He became one of Hollywood's top stuntmen.
And for grandparents who may have watched the original jump in person, this is the ultimate family viewing event. So make sure to get a bowl of popcorn ready and share the moment — and your memories — of the 1970s Evel Knievel stunt days with them. This exhilarating documentary is an homage to Knievel's Idaho adventure that failed to reach its goal. Mr. Braun stuck the landing.
This failed attempt for Mr. Knievel always had haunted Mr. Braun, who took it upon himself to reconnect some of the players in the original jump, namely the late rocket scientist Robert Truax's son Scott. They had the original plans and rebuilt the rocket ship that was designed for Mr. Knievel. Then, through one of Mr. Braun's fortuitous stuntman connections, Dwayne, "The Rock" Johnson, got wind of the entire story and wanted in to help Mr. Braun's unique tale come to life in epic heart-racing Disney style documentary.
Back in 2016, Mr. Braun came to Idaho and set up a base camp in Twin Falls, his mission for recreating the infamous jump, building momentum in the media, and interest from many parties became a complex effort. The documentary captures all of this, including the B-roll of Mr. Braun's most famous career stunts caught in blockbusters and classic TV series, as his personal family life is also interspersed.
This Friday, you get a front-row seat with Eddie Braun on this complex path from idea to the tangible rocket ship named "Evel Spirit," and in 2016, he launched himself across the Snake River Canyon in Twin Falls, Idaho — recreating that failed jump by his hero Evil Knievel 42 years prior. The controlled crash was mapped out and analyzed, and the journey to see this attempt to the end is a thrilling television experience.
After all these years, the takeaway for Mr. Braun was that Idaho is a special place, what he calls "real America," and a place he may consider coming back permanently to live. He had high praise for the Twin Falls Sheriff Tom Carter and a deputy who had his back and gave him a confidence boost when he needed it most.
The Idaho Press spoke to Mr. Braun on Monday and got an exclusive interview ahead of the Disney+ premiere this coming Friday.
Idaho Press: Many of us watched Evel Knievel in 1974 for the Snake River Canyon jump. In this documentary, we see a photo of you as a child with Evel. Where was that picture taken of you both?
Eddie Braun: I met Evel Knievel in Gardena, California, at a racetrack called Ascot [Raceway Park]. He was larger than life. He was like a rockstar and a superhero incarnate.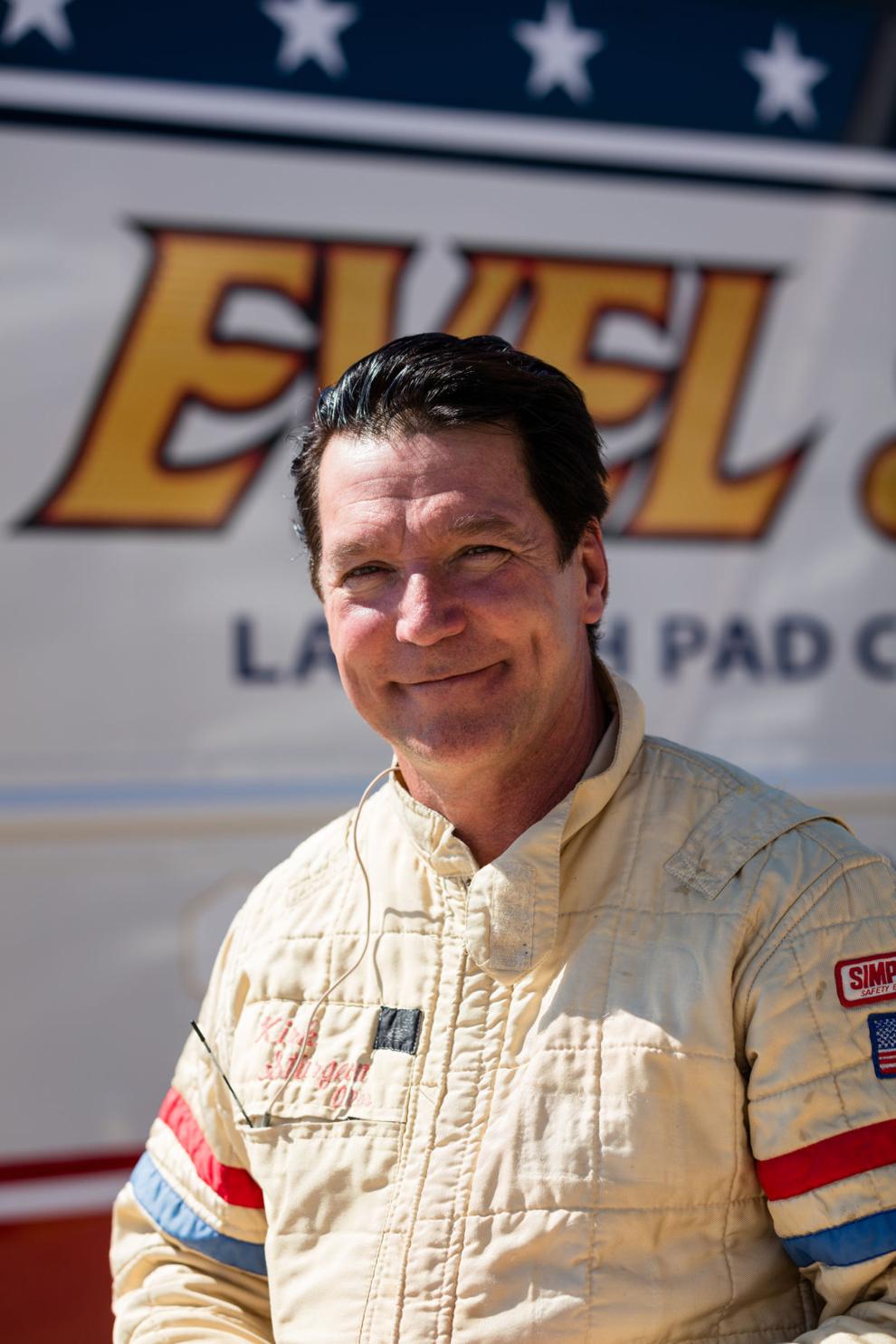 IP: Was he one of the main inspirations for you to become a stunt man?
EB: He was absolutely the inspiration for me to become a stuntman.
IP: You were in Idaho for quite a while in 2016 for the redo of his infamous rocket jump. You base camped in Twin Falls. You also met with the locals who appeared embittered in the footage in the doc from Evel Knievel's 1974 jump.
EB: Well, first of all, I love that little town of Twin Falls, Idaho. What a beautiful picturesque place, and the people there they're real people. I can understand the apprehension when they hear that this Hollywood stunt man is coming to town. Like the three-ring circus was coming to town.
They had a lot of bitter feelings of the last time when Mr. Knievel was there, for whatever reasons. I didn't want to dissect his issues because that was over 40 years ago.
I know how I am and I told everybody I encountered that, 'Listen, you don't know me, but if you check my reputation, I try my hardest to be a man of my word and I mean what I say." And I found that as I dealt with these people and especially one-on-one, they took me on my word, and these people, they still do things on a handshake there, and it works great for them.
So getting the confidence from these people made me want to rise to a higher level to fulfill that confidence. I guess it all worked well with everybody I've met. They helped immensely beyond having to, so it was a wonderful experience.
IP: Post-jump, what was the reaction of local people that you got to know in Twin Falls and surrounding cities and Idaho?
EB: Oh, they were wonderful. I felt like I was an honorary citizen of Twin Falls. I think they were just happy for a couple of reasons. First, I think they were glad to see that their expectations were met and exceeded as far as the business dealings they had with me.
And listen, it helped the local economy. My project employed quite a few people, so they were happy on that level. They were pleased, and it satisfied the nostalgia they had that remained, to fulfill something that had been hanging out there for over 40 years. So, again, all the way around, it was a very upbeat, euphoric feeling.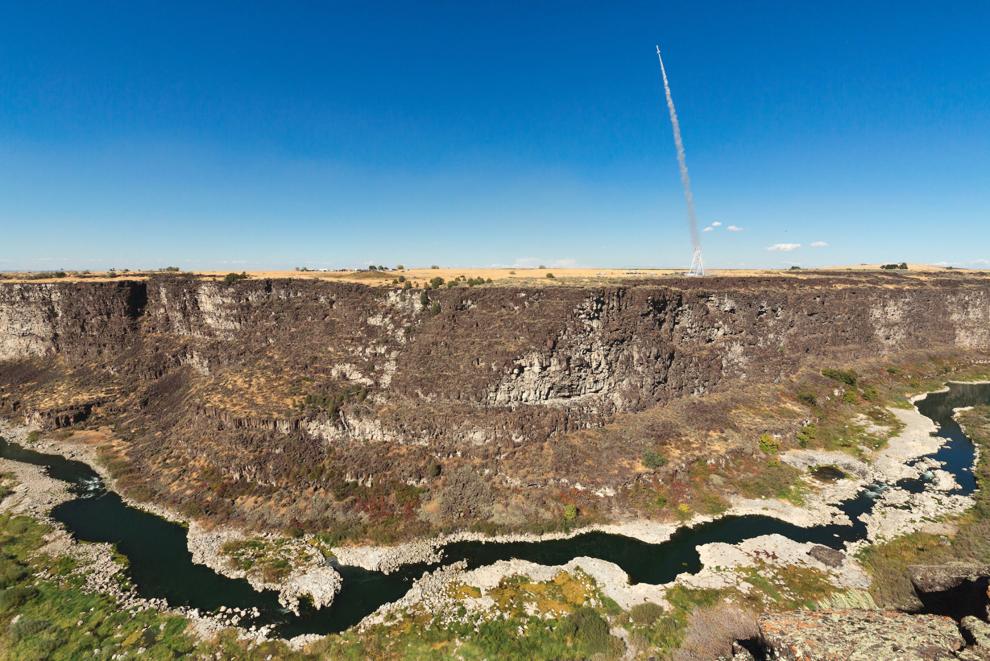 IP: There are a lot of layers in this documentary. It also shows what your family goes through, and they worry. Of course, you all joke about "SWAG," but really, you guys cross your fingers a lot and hope that the people around you are on top of things. It seems.
EB: There's a big difference between a professional stuntman and a daredevil. The daredevil wings it; they don't know the outcome. And usually, they do it to glorify themselves.
A professional stuntman works as a team and relies on other people. And, usually, they're [stuntmen] not even known or seen.
There's a very good reason I named my rocket the "Evel Spirit" and not the Eddie Braun. I'm not that guy. I'm more of a boring technician who goes to work every day, and I rely on teamwork and many people to make something happen. And that's the difference between a daredevil and a stuntman. So when I hear it, and when I use the term or word "SWAG," it stands for "scientific wild aguess," but it's rooted in based on two essential criteria. And that is instinct and experience.
IP: Many people think that daredevils and stunt people are cut from the same cloth.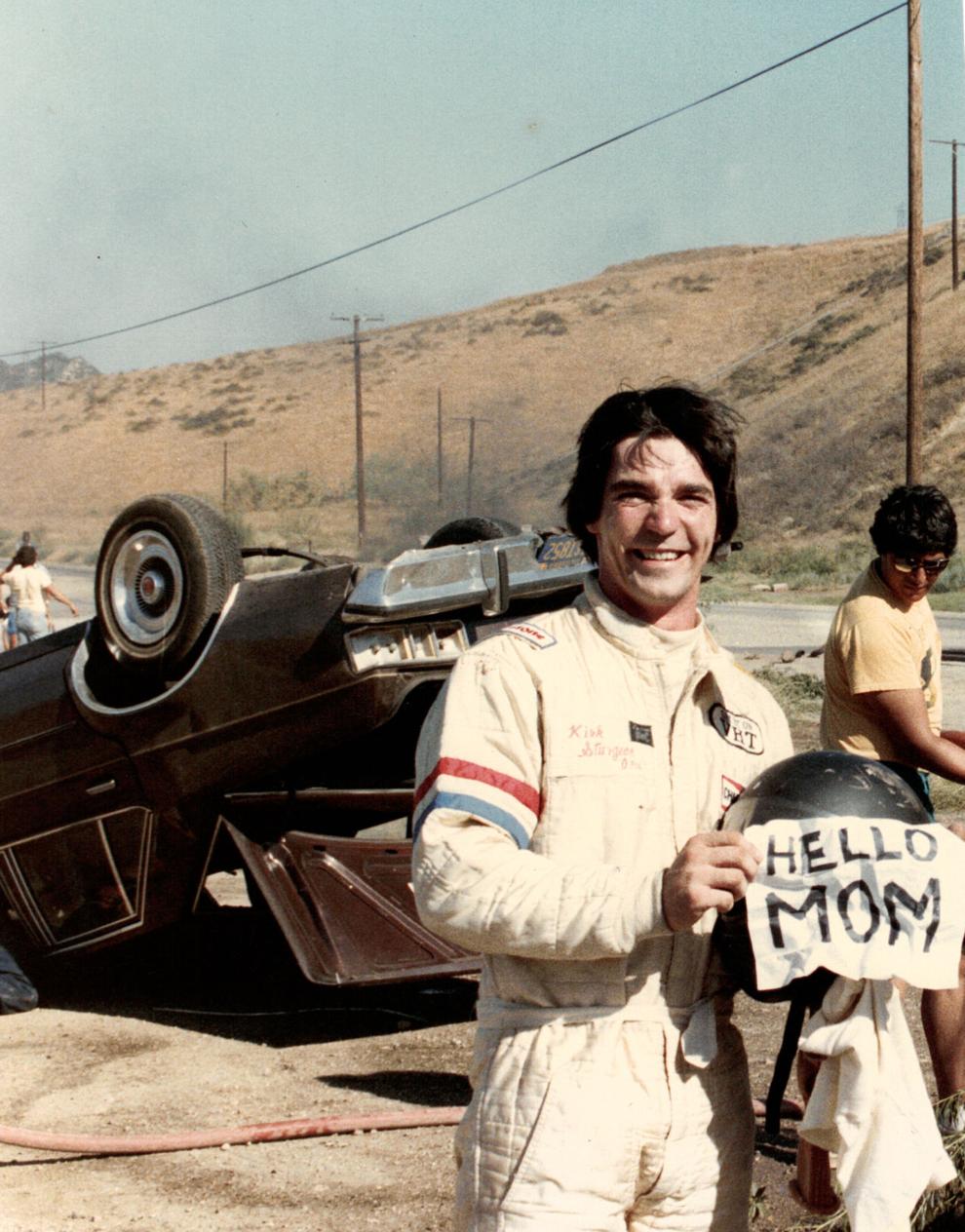 EB: No. They are not. I'm not an adrenaline junkie. I mean, there's a bit of daredevil in me, but, but mainly I'm very proud to call myself a professional stuntman, not a daredevil.
IP: You worked with so many famous actors. How did you connect with your executive producer, Dwayne "The Rock" Johnson?
EB: Well, I had worked with him. I did "Escape From Witch Mountain" with him, but really it was one gentleman who was instrumental in all of that. And that's The Rock's stunt double, Mr. Tanoai Reed.
Mr. Reed has been The Rock's stunt man in almost every movie. So they're very close, and the stunt community is pretty close. I knew Tanoai Reed, and he knew what I was doing. He had mentioned it to The Rock.
And from the very beginning, The Rock was like, "whoa, this is way cool. And I want to help and support this. However, I can." And, it was because of Mr. Dwayne Johnson that anybody sees this film. I thought that this film would be like a tree that falls in the forest. Did it ever happen if nobody had heard about it? But with The Rock on board, a different story. Mr. Dwayne Johnson makes sure that this is a mighty oak that falls right in the middle of Times Square.
IP: You gave Scott Truax a chance to redeem his father's reputation on the rocket that he built that failed Evel Knievel. And talk about your relationship with Scott and the redemption of his father's design for the rocket.
EB: Scott is a gentleman. Just from the moment I spoke with him and met him, he is very kind. I could sense his genuine care. Listen, let's be honest. He's still no rocket scientist [like his father, Robert Truax], but what a sweet guy. And I felt this man's [intentions].
Obviously, we had his father's blueprints and spare parts. So I knew that his father was a rocket scientist. So my SWAG, my scientific wild aguess, was that if we followed his father's recipe verbatim that we should get the desired result, and with Scott leading it we were able to piece together. But again, this wasn't some big NASA thing. This build was like more in a garage with a roll of duct tape and a hammer.
IP: How do you push through your fear? What is your secret that gets you to get in and get strapped in and do the thing?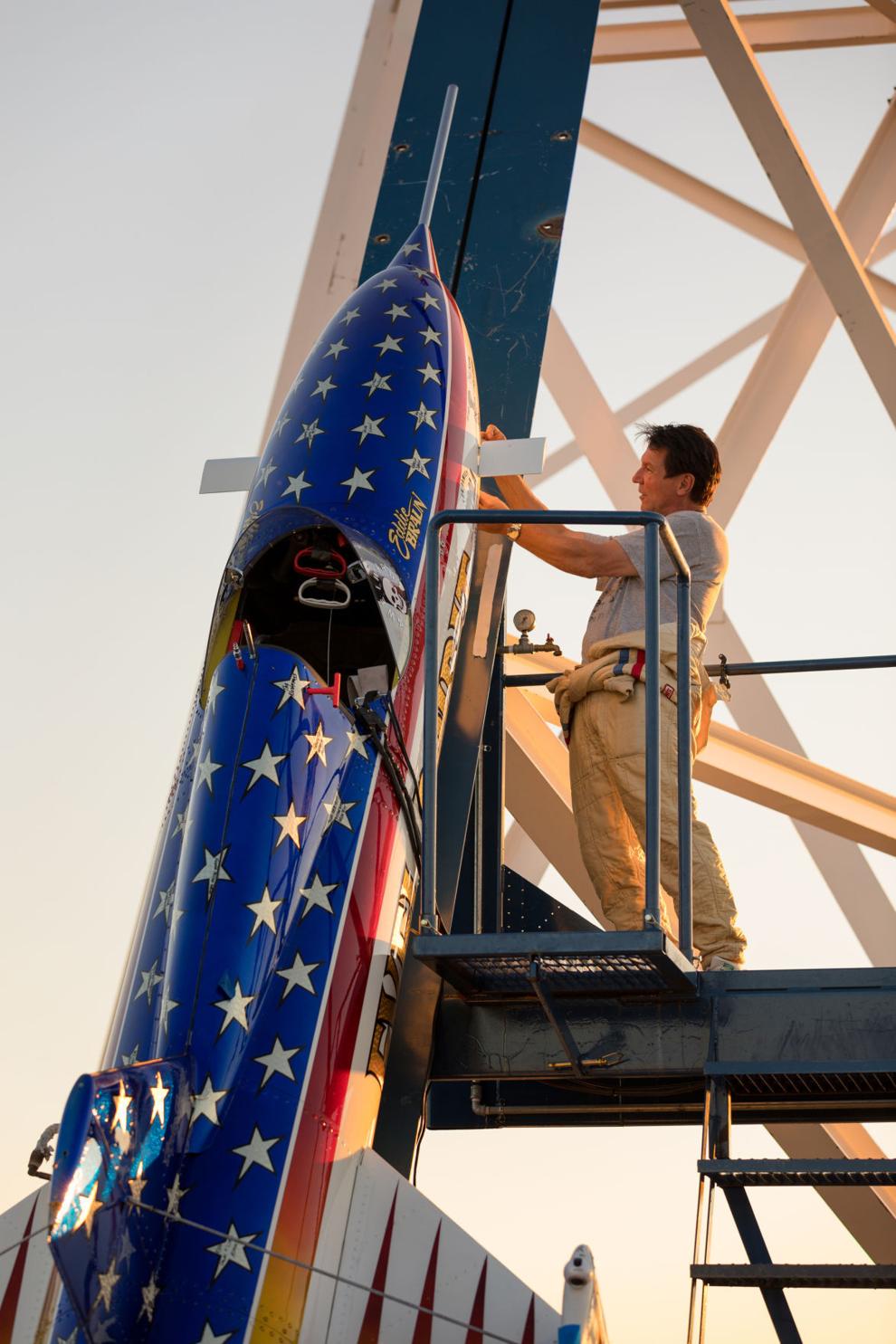 EB: Well, listen, I'm scared of a lot of things. I am scared of heights, terribly scared of spiders. I'm scared of a lot. I'm not one of these macho guys that don't fear anything. I have a lot of fears. And that's natural. I tell my kids, there is nothing wrong with having fears. It's how you deal with those fears that define you as a person.
Some people vapor lock, and some people freeze during the headlights. Some people fight or flight. Others confront it head-on. I like to think that all my fears I just deal with it daily when I go to work; I'm scared of many things, and that's natural and healthy. As I said, it's how you deal with the fears that define you as a person. I always say, be Maverick, not Cougar ["Top Gun"].
IP: Are you ever going to return to Idaho? Is it a place where you would consider coming back? What were your impressions when you were in Idaho?
EB: I will say this, and there are a couple of people I have to thank. I would say I even considered buying property in Twin Falls. One of my favorite restaurants there is called Elevation 486. I made that a de facto office between Elevation 486 and the Starbucks in Twin Falls.
They couldn't pry me out of either one of those two places. But I have to thank Sheriff Tom Carter.
He had confidence in me and helped immensely. I could not have gotten through a lot of things if not for Sheriff Carter helping me.
And another one is Twin Falls officer Don Newman. These guys looked me in the eye and said, "Listen, we think you're nuts, but if you fulfill your commitments that you make the people here, we will support you. So please don't let us down."
So, between Sheriff Tom Carter, and officer Don Newman, those guys were terrific. I may buy property in Twin Falls. It is the real America there. And I really love those people.
"Stuntman" begins streaming on Friday, July 23, only on Disney+.